"When I was growing up, I just wanted to be rough and tumble, break stuff, look at bugs. You know, have fun, just like normal girl stuff. But when your house is pretty much a museum and you come from a long line of ancient noble dragons, that's kinda…frowned on."
— Mei
Coming Home is the third episode of Season 1 and the third episode overall of Monkie Kid.
Synopsis
This description was taken from official source. Do not modify it.
---
Short description
When Mei, a member of the Dragon Family, and MK house sit, DBK's minions attempt to infiltrate the house and steal the legendary Dragon Blade.[1]
YouTube
Mei is a member of the fabled and prestigious Dragon Family. When Mei is asked to house sit for her parents, MK begs to come along. Of course, General Ironclad, one of the Demon Bull King's minions, hears that the family will be gone and realizes there's an opening to infiltrate the famed Dragon Temple House and steal the legendary Dragon Blade. But Mei defends her home and claims her birthright as the wielder of the fabled sword.[2]
Plot
At Pigsy's Noodles, Mei was playing Monkey Mech with MK and was winning until she receives a call from her mother, who tells her to look after the Dragon House while she and her husband are gone. Overhearing the conversation, MK convinces Mei to take him, Sandy, and Mo to Mei's home so they can have a sleepover, which Mei unwillingly agrees to. However, unknownist to the others, General Ironclad was spying on them and was told by Princess Iron Fan to get the Dragon Blade for her.
At the Dragon House, MK, Sandy, and Mo becomes fascinated by house's appearance and tells Mei that it must've been great to live there. Although, Mei says she's not sure, as she didn't get to do what she wanted while she was growing up at the time.
After getting inside, MK and Sandy started messing with all the Dragon Family's artifacts, which bothers Mei until she yells at them to stop. Moments later, Mei gives a tour to MK, Sandy, and Mo until they come across the Dragon Blade, where Mei says that it used to belong to one of her ancestors, the Dragon of the West.
At the game room, Mei tells MK, Sandy, and Mo to stay while she gets everything ready. However, when Mei left, MK accidentally breaks the pinball machine and tries to fix it, but only for the pinball machine to break even more.
Cast
Features
Characters
Main:
Supporting:
Antagonists:
Locations
Objects
Vehicles
Names in other languages
| Foreign language | Name |
| --- | --- |
| Mandarin | Guī jiā pàiduì (归家派对, "Homecoming Party") |
| Taiwanese | Huíjiā (回家, "Go Home") |
| Cantonese | Wui4 gaa1 (回家, "Go Home") |
| Korean | Meine jib gugyeong (메이네 집 구경, "May's House Tour") |
| Japanese | Chō densetsu-kyū! Mei no tondemo rūmutsuā (超伝説級!メイのとんでもルームツアー, "Super Legendary! Mei's Ridiculous Room Tour") |
| French | Retour à la maison ("Coming Home") |
| German | Zuhause ("At Home") |
| Spanish | Regreso a casa ("Coming Home") |
| Hebrew | לבוא הביתה ("Coming Home") |
Trivia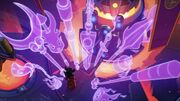 Along with the Dragon Blade, the "most powerful artifacts in history", as shown by Princess Iron Fans projection are: Monkey King's Golden Staff, Ne Zha's fire wheels, a Calabash, Zhu Bajie's rake, Sha Wujing's crescent staff, Princess Iron Fan's magic fan

It's possible the calabash in the hologram is different than the one in the possession of the Gold and Silver Demons as it has a different design.
Three of the artifacts identities are currently unconfirmed, though they resemble the Seven-Star Sword,Lao Tzu's Diamond Snare, and what could either be the Fire-tipped Spear, Ne Zha's spear, or a completely different spear.
Errors
When MK was saying that he could bring his Monkey King DVDs, he was briefly seen in his casual attire even though he was wearing his uniform at the time.
Focus Characters
Protagonists
Mei serves as the main protagonist of this episode.
Antagonists
References