These are the relationships of the Monkey King's successor, MK.
Mei
Description
MK is Mei's best friend. Because of them being close friends, MK and Mei often hang out in places in Megapolis such as the Anti-Gravity Arcade.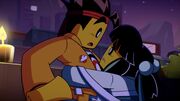 In "Calabash", it was revealed that MK's relationship with Mei is platonic, as MK was on the verge of throwing up after Mei's Calabash counterpart said that she loved him.
In "The Great Wall Race", MK's friendship with Mei was briefly torn apart after an argument, where MK said that he was gonna beat her at the Great Wall Race, even though he didn't. Despite this, they were able to make up when MK apologized.
Pigsy
Description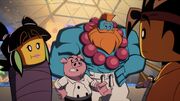 When Pigsy kept reminding MK about his responsibility for having the same powers of the Monkey King's, MK ignored him, as he thought he had no problem since he was invincible, despite it being untrue. However, after having his powers limited, MK promised Pigsy and the others that he'll control his powers by practicing.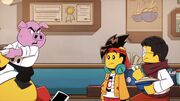 In "Duplicatnation", Pigsy kept stressing out MK by making him deliver noodles that the customers ordered. Instead of telling Pigsy the truth, MK created an MK Clone to deliver the noodles for him. However, when Pigsy got mad at MK when he realized that the Delivery Clone ate all the noodles he was supposed to deliver, MK makes it up to him by paying all the noodles that the clone ate.

When Pigsy intended to fire MK after having enough of his foolishness, MK begged him to give him one more chance. Despite Pigsy agreeing, he warned MK said that he'll replace him with a robot known as the "Deliverybot 9000" if he messed up the next delivery.
Tang
Description
Tang is one of MK's teammates.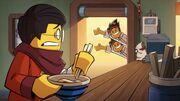 In "Duplicatnation", when MK was stressed out from all the activity he was doing, he asked for Tang's help and thanked him when the latter showed him how to make duplicates of himself.

In "Noodles or Death", it was revealed that while Tang thinks of himself as MK's father figure, it was also implied that MK cares less about Tang whenever it comes between him and Pigsy, as he didn't realised that Tang was missing along with Pigsy until he saw what happened to them.
Sandy
Description
Sandy is one of MK's friends and teammates.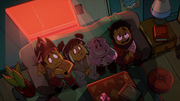 When MK first heard of Sandy, he was scared of him at first, as Pigsy described Sandy as a "dangerous, deadly, raged filled warrior".
When Sandy asked MK's help for painting his boat, MK gladly accepts Sandy's favor and helped him, despite it being one of the three tasks that kept stressing him out. Instead of telling Sandy the truth, MK created an MK Clone to help Sandy paint his boat, as he didn't want to upset Sandy. However, when the plan backfired when the Painter Clone started threatening Sandy, MK head over to Sandy and rescued him.
Monkey King
Description
The Monkey King is MK's mentor and predecessor. At some point in time, MK became a fan of the Monkey King and looked up to him. After his first battle with the Demon Bull King, MK was trained and learned lessons by the Monkey King while trying to get better control of his powers.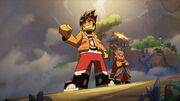 When MK meets the Monkey King in person, he apologizes to him for losing the Golden Staff until the Monkey King told MK that he's been watching him for a while, as he wanted MK to be his successor. However, when MK said he doesn't know if he can, the Monkey King encourages him by saying that he needs to believe in himself.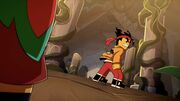 In "Macaque", MK took the Monkey King for granted and decided to be trained by Macaque instead, as MK thought that he wasn't getting nowhere in his training. However, after MK realized that he was being tricked by Macaque, he apologized to Monkey King and continued to be trained by him again.
Red Son
Description
When MK first met Red Son, he accidentally stumbled upon him and Princess Iron Fan's plan to free the Demon Bull King from his prison.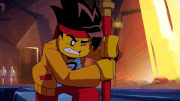 In "The End is Here!", instead of fighting Red Son, he worked together with him, as the latter had to help MK free the Demon Bull King from Lady Bone Demon's control.

In "Revenge of the Spider Queen", when Red Son said that he can find an antidote that can cure the civilians from the Spider Queen's venom, MK didn't trust him at first but later changed his mind, stating that helping Red Son is the only way to save the people.
Spider Queen
Description