"Aw, Mo. Such cute, lazy cat. You ain't got a trouble in the world, do you?"
— MK
Mo is Sandy's cat.
History
Mo was with Sandy when the latter was talking to MK and his friends. He later assisted MK's team during the battle against the Bull Clones.
Mo was with Sandy when he was moving crates with his cargo ship while the others were having time off.
When MK met up with Sandy and Mo at the harbor, Mo would watch MK and Sandy paint the latter's boat. However, when MK created a clone to paint Sandy's boat, the clone ended up threatening Mo and Sandy.
Mo assists Sandy, MK, and Mei to rescue Pigsy and Tang from the Spider Queen.
Mo was having time off until he realized that MK accidentally opened a crate that Monkey King told him to look after, letting the Fruit Babies come out and started messing with a sleeping Sandy and his home. However, once Mo got an idea to use Sandy's sleeping tea leaves on the Fruit Babies, he used the Power Loader Mech to spray the sleeping tea on the Fruit Babies and placed them back in the crate. After MK and the others returned to the harbor to see how Sandy was doing, Mo attacked MK, who attempted to open the crate the contained the Fruit Babies.
Personality
Appearance
Mo is a blue cat that has a white underbelly and a light orange spiky mohawk and stripes. He also has a spiky orange collar.
Designs
| Outfit | Description | Image |
| --- | --- | --- |
| Dystopian | After Megapolis was taken over by a possessed Demon Bull King, Mo's fur and mohawk was rougher and had tape wrapped around the end of his tail. | |
| DJ | Mo wears a pair of sunglasses and a gold fanny pack. | |
Alternate versions
Calabash counterpart
Main article: Mo (Calabash)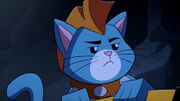 When MK was trapped in a magical artifact known as the Calabash, he was sent to a simulation where everything's perfect in Megapolis. There, he winds up having a romantic river cruise with Mei's Calabash counterpart, while Mo's Calabash counterpart was there as well. Unlike the real Mo, Mo's Calabash counterpart was able to talk due to Jin.
Vehicles
Air vehicles
Hoverboard (non-canon) - A small hoverboard piloted by Mo.
Hover Cage (non-canon) - A cage-shaped hovercraft that Mo pilots.
Mechs
Appearances
Names in other languages
| Foreign language | Name |
| --- | --- |
| Mandarin | Máo (毛) |
| Japanese | Mō-Chan (モーちゃん "Mo-Chan") |
| Korean | Mo (모) |
Behind the scenes
Mo's Chinese name, Máo (毛), means hair.

It is the same in pronunciation (with different tone) as the word for cat: māo (猫).
References