Spider Demons were a type of Demon.
History
When MK arrived at a temple in Flower Fruit Mountain, he saw an illustration of the Spider Queen and the Monkey King's other adversaries.
At the market, the Spider Queen lures Pigsy and Tang into going inside her store. After she had succeeded, she sent Pigsy and Tang down a hole to the Silken Web Cave.
At the Silken Web Cave, Tang pins blame on Pigsy for their capture until the Spider Queen arrives. She explains her plans to take back her empire in addition to her intent to eat Pigsy and Tang. However, after Tang tells her that MK will come to their rescue, the Spider Queen decides to wait for MK's arrival.
When MK, Mei, Sandy, and Mo attempted to venture across the Silken Web Cave, the Spider Queen captured them and went after MK. When the Spider Queen confronted MK, she took a piece of his hair and said that she planned to take his powers so they can be hers. MK's Team returned and attempted to rescue MK, only for the Spider Queen to attack MK again, causing her to unintentionally break a giant hole in the ground. This leads MK's Team and the Spider Queen to fall in.
The Spider Queen manages to save herself and threatens MK and his team, telling them that they haven't seen the last of her.
At New Year's, the Spider Demons interrupted the celebration and started to corrupt the civilians with their Spider-Bots, which were filled with the Spider Queen's venom and caused them to turn into spider demons.
Members
Allies
Appearance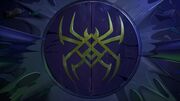 The Spider Demons appear as lavender-skinned demons with clothing that has black as its primary color with purple, lime green, and grey as secondary colors. They have lime green eyes. Like most demons, they have sharp fangs that add to their inhuman appearance. Their hair is usually spiky, although some appear with a smoother hair style.

All the Spider Demons also have a unique features that resemble the characteristics of spiders, such as multiple eyes or mechanical spider legs.
Majority of the spider demons wear a diamond symbol.
Appearances
References