"I have constructed what you asked for. The delivery systems are operational, so long as the venom works this time."
— Syntax
Syntax was a scientist that worked for the Spider Queen. During New Year's, the Spider Queen used one of her Spider-Bots on Syntax to test out the effects of her venom, causing Syntax to transform into a Spider Demon.
History
While Syntax and the other Spider Demons were rebuilding the Arachnoid Base, he tried to tell the Spider Queen that they need more time to rebuild it. Later, when MK returned to the Silken Web Cave to reclaim Pigsy's noodle sign, Syntax and the others attempted to attack him, but was horrified when MK showed his puppy hands to them. While looking for MK, Syntax was attacked by the Mayor.
Personality
Defined by his high level of knowledge and the way he acts towards both his allies and enemies, Syntax was shown to be a Spider Demon who mostly had regards for himself and his cohorts' motives.
He was also known for looking down upon other people depending on their rank and/or level of intelligence and has no problem dealing them, as he described MK to be idiotic before letting the Guardians of Knowledge fight for him.
Appearance & Variants
Overview
Syntax was a Spider Demon with scruffy and swept hair and a pencil mustache.
Variants
Human: Before being infected by the Spider Queen's venom, Syntax was originally an average human, and had black hair and wore a pair of lime-colored glasses. He also possessed a white labcoat along with an indigo and lime-colored shirt, and black pants.
Spider Demon: After being transformed into a Spider Demon, Syntax's skin and hair were changed into lavender and lime respectively, and grew four mechanical spider legs out of his back. His lab coat and lapels were also changed to black and lime respectively. He also obtained black VR goggles.
Minifigure
| Minifigure | Show | Differences |
| --- | --- | --- |
| | | Unlike his appearance in the show, Syntax had a lanyard with an ID badge and five pockets on his lab coat, the mechanical spider legs on his back are used as extra hands instead of spider legs, and also has three eyes instead of two. He also has a purple cybernetic monocle. |
Accessories
Goggles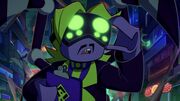 After being corrupted by the Spider Queen's venom, Syntax wore a pair goggles that resembled a VR headset with six eye lenses. He occasionally wore them during missions.
Mechanical spider legs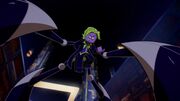 After becoming a Spider Demon, four mechanical spider legs grew out of Syntax's back during his transformation. As shown in "Sleep Bug", he was able to retract them.
Abilities
Vehicles
Mech
Mech - Syntax used a four-armed mech, which attaches to his back and possess a spider venom rocket launcher and saw for two of the hands and two spikes on the other.
Relationships
Allies
Spider Queen: The Spider Queen was one of Syntax's allies, as well as his boss. At some point in time, Syntax was recruited by the Spider Queen to help her with the delivery systems for the Spider-Bots. In "Revenge of the Spider Queen", it was revealed that he often back talked at her. However, after he was corrupted by the Spider Queen's venom, Syntax became more loyal to the Spider Queen than he was before.
Huntsman: Despite the two being allies, he and Huntsman had a rivalry whenever it came to pleasing the Spider Queen.
Appearances
Names in other languages
Chinese: Àn Wǎng (黯網 "Dark Web")
Japanese: Shintakkusu (シンタックス "Syntax")
Korean: Sintaegseu (신택스 "Syntax")
Quotes
"I have constructed what you asked for. The delivery systems are operational, so long as the venom works this time."
―Syntax to the Spider Queen
"Wait, I helped you!"
―Syntax before becoming a Spider Demon
"My queen."
―Syntax after getting corrupted by Spider Queen's venom
"My queen, I have news regarding Red-"
―Syntax before being interrupted by Huntsman
"Target aquired."
―Syntax
"I don't know. It's not on the approved parade schedule."
―Syntax after seeing a Monkey King cardboard cutout
"The Cloud? My queen, allow me to break in and bring you this item."
―Syntax to the Spider Queen
"The Cloud is a labyrinth of information, an unrivaled collection of knowledge guarded by fearsome beings who cannot be overcome by brute strength, or the ability to follow footprints in mud. However, it is connected to all the technology in the world. Therefore, I can exploit it."
―Syntax explaining the Cloud
"Has anyone heard the story of… the Sleep Bug?"
―Syntax
"Well, well, well. The one and only Monkie Kid. You should be asleep."
―Syntax to MK
"Uh, because my Sleep Bug game, that sent the whole city to sleep."
―Syntax explaining why MK is supposed to be asleep
"Of course! Now, did I need to put the whole city to sleep just to incapacitate the two guardians here? Perhaps not. But in for a penny in for a pound, either way, you don't have the mental dexterity to debug my game. You're just a motherboard with decent GPU and no central processing unit."
―Syntax taunting MK
"A graphic processing unit. It means you look good and are well animated but you don't have any brains."
―Syntax after MK questioned what a GPU is
"No. I'm a big fan of outsourcing."
―Syntax to MK
"While I'd love to hang out and chat, I have other things to attend to. And you're about to be eviscerated by the ancient Guardians of Knowledge. So I guess we're both pretty busy. Okay, bye!"
―Syntax to MK
"My queen."
―Syntax to the Spider Queen
Trivia
Gallery
Minifigures
Official media
References